A DIFFERENT WAY TO SWEAT
Looking for a new way to sweat? We offer instructor-led classes for all skill levels at Rock Solid Fitness. Our classes focus on cardio conditioning, strength training, endurance, and core exercises. Reach your maximum potential in our functional fitness facility. Not sure where to start? Let us help.
We know that connection and motivation are non-negotiable when it comes to choosing a gym. That's why we offer every member—new and old—the opportunity to customize their health journey. Choose your direction with specialized classes and get to know our staff today.
CLASSES WE OFFER:
HIIT - High Intensity Interval Training
Youth classes (seasonal)
Landers Training Classes
SILVER SNEAKERS - FITNESS CLASSES FOR SENIORS
At Rock Solid Fitness, we take great pride in providing the best Silver Sneakers experience. Our Silver Sneakers' classes provide a fun, interactive environment to help with your fitness goals! If you have Silver Sneakers included in your Medicare Advantage Plan, you get all of the location access, Silver Sneakers classes, on-demand videos, and perks of membership at no additional cost. Check us out today!
Renew Active
Renew Active®. The gold standard in Medicare fitness programs for body and mind. It includes: A free gym membership. Access to our nationwide network — the largest of all Medicare fitness programs +, including many premium gyms. You also get an annual personalized fitness plan plus access to group classes. Thousands of digital on-demand workout videos and live streaming fitness classes. An online brain health program from AARP® Staying Sharp®. And more.
Renew Active is available at no additional cost, exclusively from UnitedHealthcare® Medicare Plans.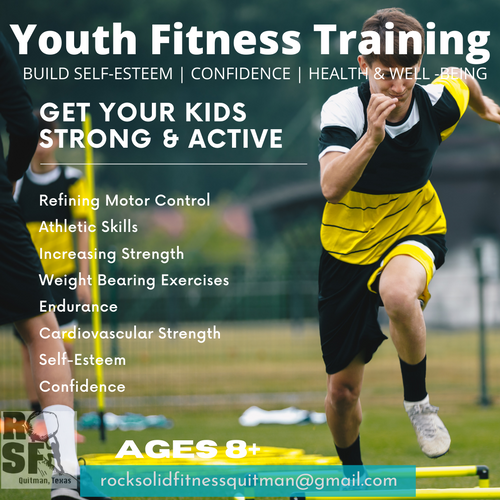 YOUTH FITNESS TRAINING
Whether you want to help your child reach their highest potential in sports or participate in athletics while mitigating the chances for serious injuries, our Youth Training program can help make it all happen!
Speed, coordination, acceleration and endurance are all learnable skills! Don't fall for the myth that "some kids have it and others don't"!
What your child can expect …
~A thorough, dynamic warm up~That day's speed and/or explosiveness skill~Age-appropriate strength training workout~Sport-specific conditioning work~A complete flexibility interval~A cool-down period
Every aspect of sports development flows together to produce a better, stronger and more prepared athlete.Make sure your child is ready for their next season or tryout by booking your athlete's personal sessions. $50.00 for private sessions/ groups of three or more $45.00 each.
To secure your athlete's session contact Brook Rogers.
903.850.2290
*sessions are available for individual or small groups
Contact Us To Learn More!